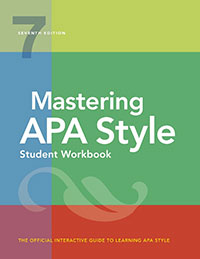 Digital Product
Mastering APA Style Student Workbook
This digital workbook, updated for use with the seventh edition of the Concise Guide to APA Style and the Publication Manual, is APA's official interactive guide to learning APA Style. It engages users online with applied questions to learn and master the basic principles of APA Style and scholarly writing.
Examination Copy
Considering using an APA book for your upcoming course? Request an examination copy today to review before you adopt.*
Desk Copy
Are you a faculty member who has already adopted an APA book for your upcoming higher education course? Click below to request a free desk copy.*
Request an Exam or Desk Copy Today!
*Please note that the distribution of examination and desk copies is subject to our review process. We send exam or desk copies to verified college faculty within the United States, Canada, and Mexico who have used or are considering using our titles for educational and training purposes in higher education. If you would like to request a copy from outside the United States, please contact our international distributors.